Our Gals
Shyrox Itty Bitty Tootsie Pop of Super C
Clay Creek Aussies were super excited to purchase Tootsie and we are absolutely in love with this beautiful girl. Tootsie is a minimal white, dark blue merle with two blue eyes. Tootsie is absolutely stunning. Tootsie has brains, looks, and athleticism. She has plenty of drive and has passed this on to her offspring. Tootsie's blue and red merle female puppies are in high demand and there is a waiting list.

Tootsie is an Elite Bronze Champion through ASDR and stands at 14.5 inches.
ASDR Registered
PRA-Carrier and clear for the rest of the Aussie panel
CERF Eyes, OFA Hips, and OFA Elbows clear.
---
Clay Creek's Eye Candy
Reese is a homegrown little beauty from our beloved Tootsie. Her sire is Lakefront Acres Double Aces from Parsons Mini and Toy Aussies. Reese is a dark blue merle with deep copper and has two beautiful blue eyes. Reese stands at 11 inches and is full panel clear. She rules the roost here at Clay Creek Aussies and has her humans wrapped around her little paw.
ASDR Registered and clear for the full Aussie panel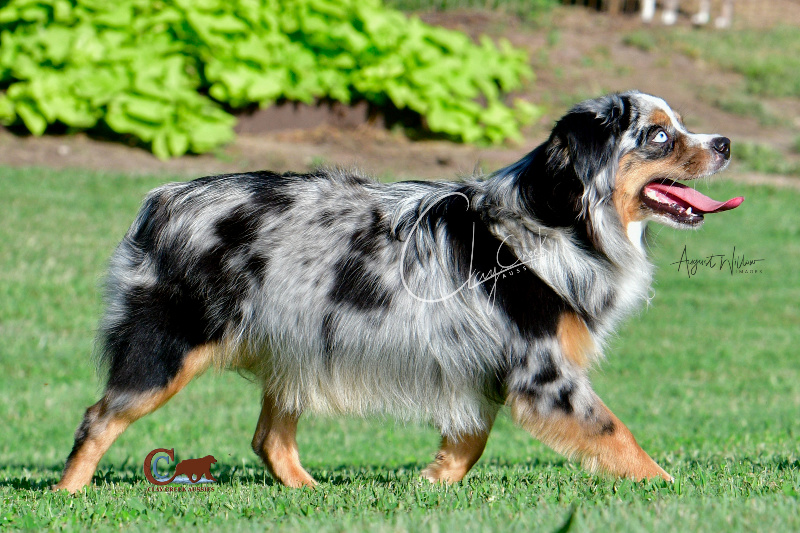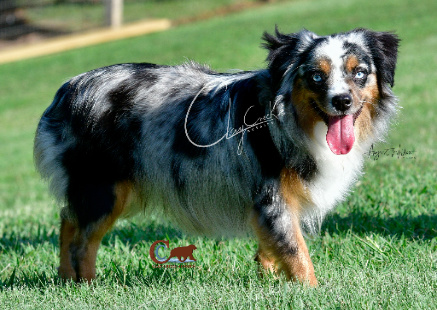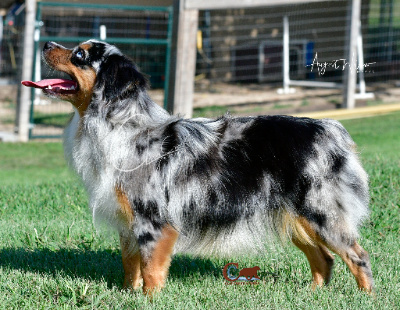 Sire: Lakefront Acres Double Aces
Dam: Shyrox Itty Bitty Tootsie Pop of Super C
---
Rim Fire Kimber
Although I wasn't in the market for another dog, I fell in love with Kimber when I first saw her and there was no way I was going to let this beauty slip through my fingers.
Kimber has the softest coat and such a friendly personality. She loves to play ball and carries one with her all the time just in case someone wants to play.
Kimber is a red merle and stands 13 inches.
NSDR and ASDR Registered.
PRA Carrier and clear for the rest of the Aussie panel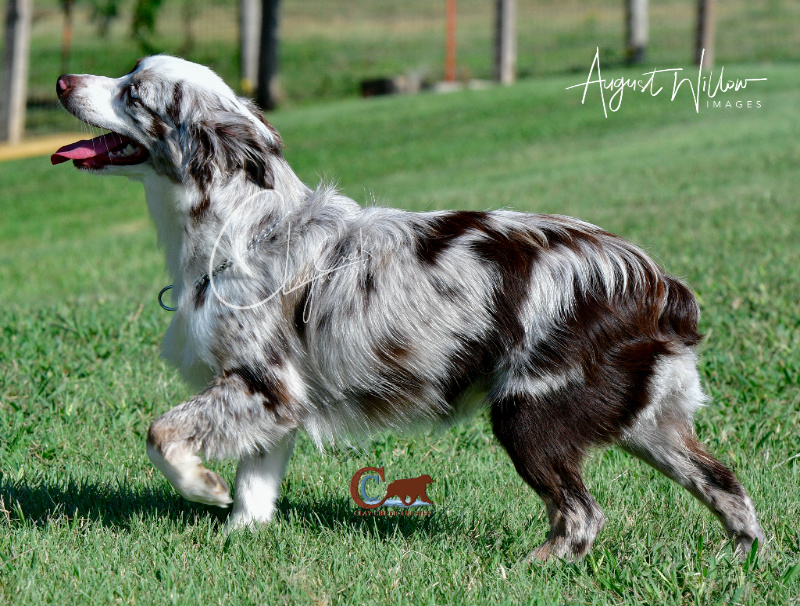 ---
Cowboy Company's Blue Mesa @ Clay Creek
Mesa came to us from Cowboy Company K9's in Utah. Mesa hit the show trail a little this year and the judges agree with us in our opinion, this girl is dang near perfect. Mesa was awarded Best in Show Puppy at the ASDR East Texas Extravaganza with 288 entries. We are so very proud of this beautiful and smart girl.
ASDR Registered
PRA-Carrier and clear for the rest of the Aussie panel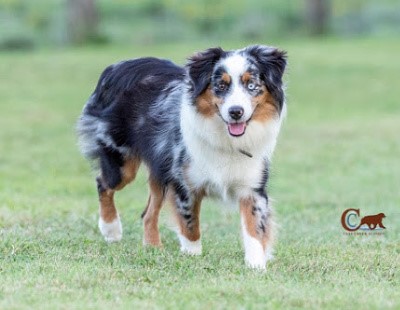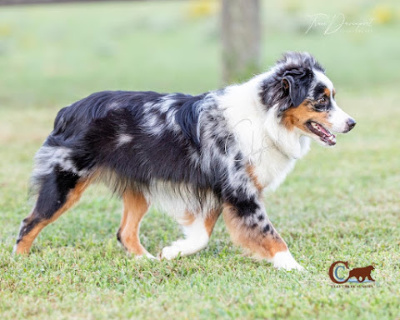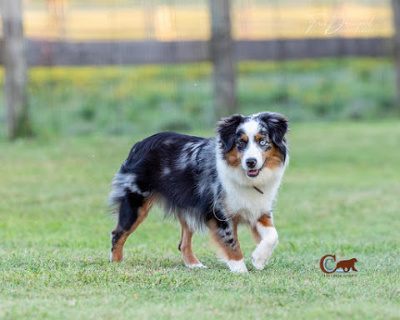 Sire: Color Country's Gunner of Cowboy Co.
Dam: Rim Fire's Reba of Cowboy Company
---
Cross L's Perfect Score @ Clay Creek
Rosin also came from Cross L Australian Shepherds and we couldn't be more pleased with this toy size girl. Rosin is a red merle female with two blue eyes with bone galore and to top all that off she is full panel clear. In 6 shows this beauty won (3) Best in Show Puppy and (2) Reserve Best in Show Puppy. To say we are excited about her is a huge understatement!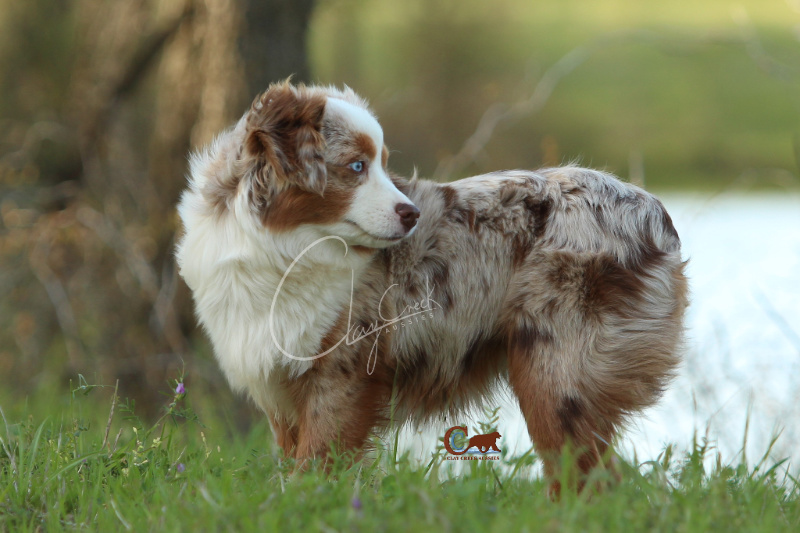 Sire: Cross L's Carson City No Limits
Dam: Cross L'S Miss Merrill
---
Clay Creek's Knock Out
Knox is a homegrown beauty out of our beloved Rim Fire Sandy and is sired by Night Trains Nash. Sandy threw her vibrant copper and piercing blue eyes into this gorgeous girl, therefore, her name is Clay Creek's Knock Out.
Sire: Night Train's Nash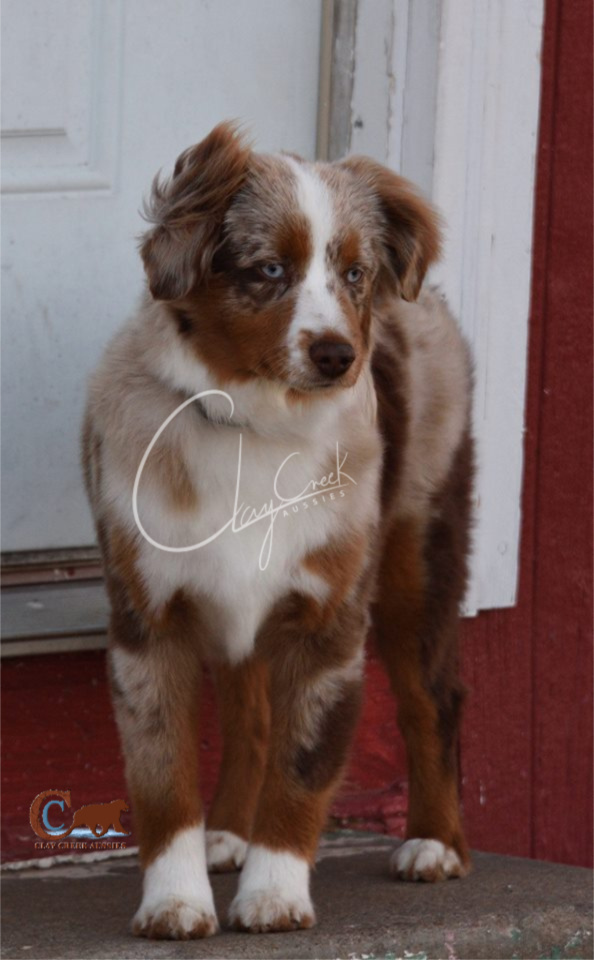 Dam: Rim Fire Sandy
---
Rim Fire Sandy (Retired)
Sandy was a great find from Rim Fire Kennel. Sandy stands 14 inches, has crystal blue eyes, the most vibrant copper and dark liver spots which she passes onto her offspring and has the sweetest personality. Sandy is a social butterfly.
NSDR and ASDR registered. Tested for PRA – Carrier, MDR1 – Carrier, HC, DM, OFA Eyes, OFA Hips, OFA Elbows clear.